ROLL-UP, X-banner Stands, Snap Frames, A-boards
We offer different sizes of Roll-up, X-banner mobile advertising stands and their printing. Mobile stands are perfect for different presentations, campaigns, office or shops interior. Stands are easy to construct and the results are effective.


MOST POPULAR

Roll-up, X-banner or Double sided, prices:

ROLL-UP banner stand + printing, bag:
850 x 2000 mm =

50,00 EUR

1000 x 2000 mm =

65,00 EUR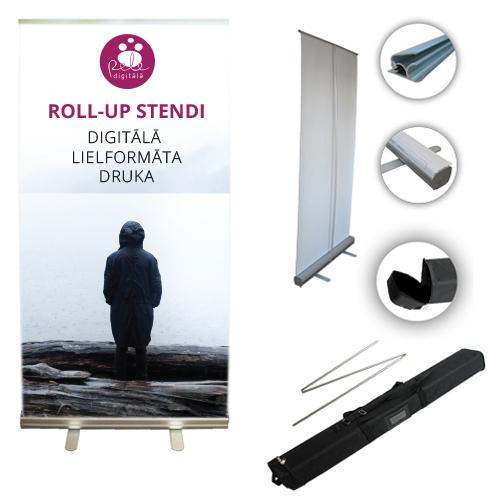 X-banner stand + printing, bag:
800 x 1800 mm =

59,00 EUR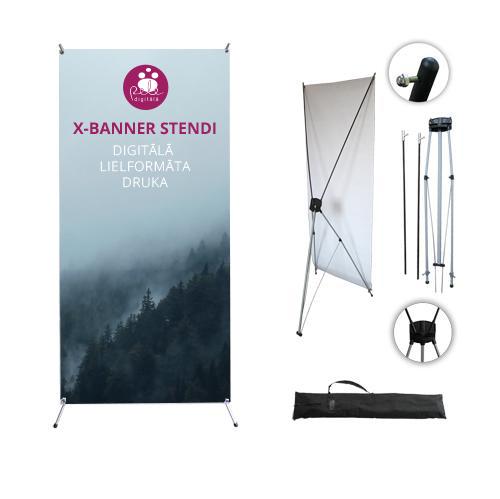 Double sided roll-up banner stand + printing, bag:
1000 x 2000 mm = 110,00 EUR



About other stands and prices, ask our project managers.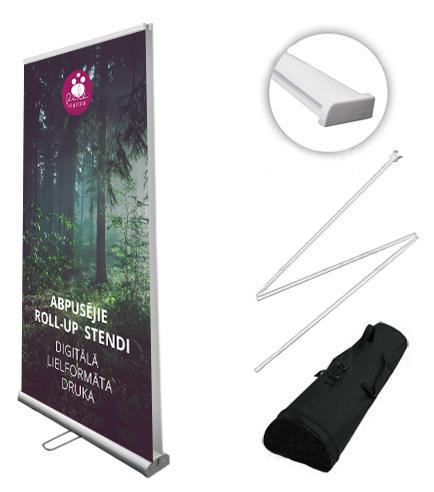 Snap frames (Clip - Clap), Poster snaps, A-boards


Snap frames, poster holders etc. are made for quick and handy placing of posters, advertisements and other printed materials. Protection against fading is provided by special plastic that has anti-glare effect.
We also offer back-lit films (light scattering film) in a wide variety of tones, suitable for printing, for use in various light frames.
Different sizes and profiles of frames are available – starting from format A3 to format B1.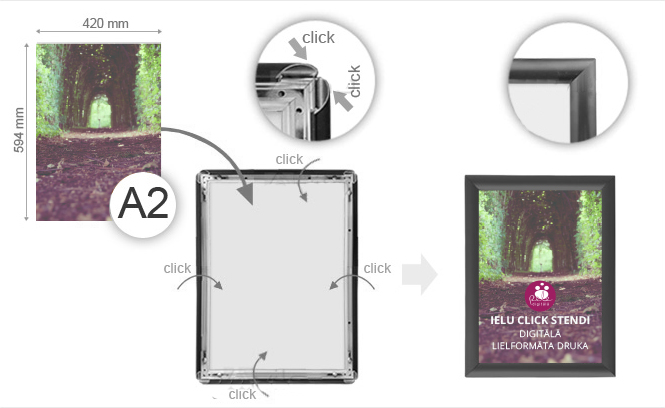 Snap frame + printing, prices:

Aluminium frame (silver or black color) with compressing mechanism ( Clip - Clap) for quick, handy placing and changing of posters and advertisements.
The set of advertising includes:
Profile
Base
Protecting plastic and
Poster printing
| | |
| --- | --- |
| Size | Price EUR |
| А4 (210 х 297 mm), 25 mm profile | 15,10 |
| А3 (297 х 420 mm), 25 mm profile | 15,55 |
| А2 (420 х 594 mm), 25 mm profile | 25,00 |
| А1 (594 х 841 mm), 25 mm profile | 35,00 |
| B1 (707 x 1000 mm), 25 mm profile | 50,00 |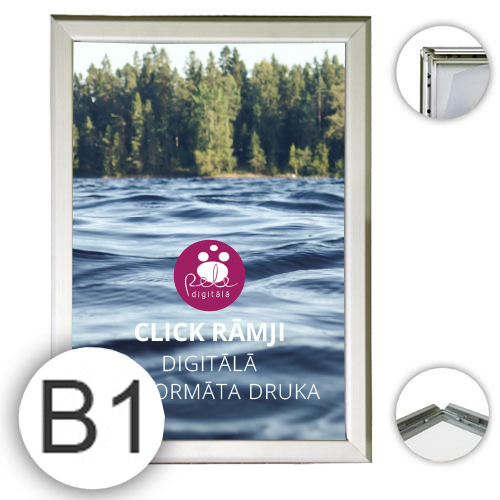 Poster Hanger Snaps

We offer various sizes hanger snaps with hanging rails for quick and easy mounting of the poster.
It is possible to hang different sizes of posters. Wide range of materials is available.
The set includes:
Two aluminium rails with compressing mechanism
Hanging clips
Four Plastic end caps
Hanger snaps + printing, price:
| | |
| --- | --- |
| Size | Price EUR (sold in pairs) |
| 40 cm profile | 5,68 |
| 60 cm profile | 8,32 |
| 80 cm profile | 11,24 |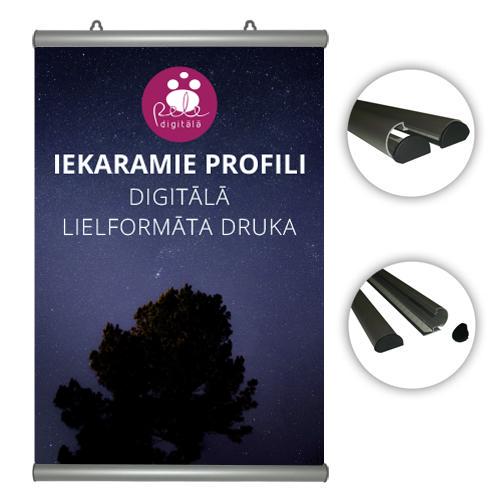 A-boards with springs for outdoors
Double sided, stable, flexible (mounted on large springs) with a snap action frames and thick anti-glare film. Elegant design with wide profile (33mm).
Construction material: Anodized Aluminum + Metal.
Price: A-board stand and double sided printing 135EUR.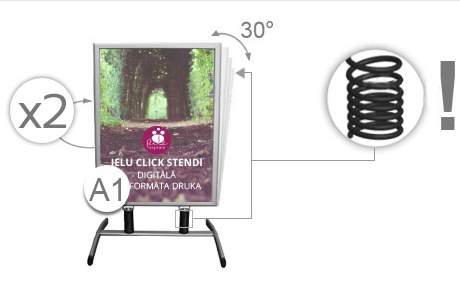 A-board stand + printing, price:
| | |
| --- | --- |
| Stand | Price EUR |
| Poster size A1 (594 x 841 mm) | 90,00 |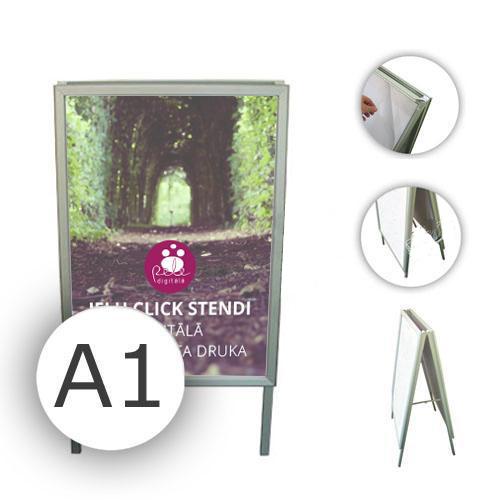 * All prices are given in EURO without VAT.
Foršs uzņēmums ar atsaucīgu, ļoti izpalīdzīgu un galvenais kompetentu personālu. Ne vienu reizi vien Digitālā Pele ir "glābusi mūsu ādu" :D Paldies, par visu, ko esat mūsu labā darījuši. Paldies Jūsu vadītājiem, par spēju uzturēt motivāciju savos darbiniekos. Paldies, ka varam uz Jums paļauties ;)
Vladislavs Grebins
Joker Ltd
Laba kvalitāte, ātrs serviss un laba cena! Paldies!
Baltic Events
Visa kolektīva vārdā vēlamies pateikt Jums paldies par atbalsta sniegšanu un mūsu ideju realizēšanu. Esam patiešām pateicīgi, ka tik operatīvi varējāt visu saražot! Par kalendāriem visi priecīgi, ir īpaši, ka bija iespēja Ziemassvētku vakarā tos uzdāvināt mūsu mīļajiem. Foto izstāde arī izdevās :) Vēlreiz paldies par Jūsu atsaucību un ceram, ka Jūs turpmāk arī citiem kolektīviem vai cilvēku grupām būsiet tik pat atvērti un sirsnīgi. Veiksmi darbos!
Jauniešu deju kolektīvs "Zālīte"
Prieks sadarboties, paveica vajadzīgo ātrāk nekā pat tika cerēts. Iesaku visiem, kuri vēlas radīt kaut ko personalizētu, sagatavot ko īpašu. Paldies par laipnumu!
Krišjānis Pleiko
Darbinieki - atsaucīgi, radoši, pozitīvi. Sniedza palīdzigu roku pēdēja brīdī un visu paspēja laikus kā arī augstākajā kvalitātē. PALDIES!
TC Grupa
Gribu teikt lielu paldies par foršo, draudzīgo attieksmi, individualitāti un darba kvalitāti!
Ecotex
Radoša, atraktīva un uzticama komanda, kas vienmēr saviem klientiem nodrošinās lielisku kvalitāti par teicamu cenu, draudzīgu un pretimnākošu attieksmi.
"Komunikāciju aģentūra "Puzzle""
Kvalitatīvi, precīzi, vienmēr laikā un par lielisku cenu. Atsaucīga komanda - īpašs paldies Andrim Kalniņam!
Evita Miķelsone
INTAR-SIJA
I´m swedish editor and also responsible for publisher of O-boken, a swedish annual yerabook about orienteering all over the world. We hade cooperate with Digitala Mouse ltd since printing of O-boken 2009 in Latvia and is very satisfied with almost everthing in our contacts. The printing of O-boken includes almost all types of graphic formats. And we think Digitala Mouse is one of the best map-printers in the world and that they can handle all types of printing. The printquality in the last O-boken 2014 is very close to perfect. Johnny Fransson, Ärla 13/1-2015
O-boken
Digital Mouse Ltd has repeatedly proven through constant cooperation with us that it can find the most suitable service, convenient in terms of execution, which takes the overall best approach – even in non-standard situations. Digital Mouse LTd delivers high quality at a reasonable price and is a strong competitor in its field.
Laima Jekšiņa, Zaļā Josta Ltd, Marketing director
Gribu teikt MILZIIGO PPALDIES par padariito darbu!! Viss bija padariits lajkaa, pat neskatoties uz to, ka komandaj bija daudz darba. Pats galvenais, ka pasutiijums bija izpildiits tieshi taa, kaa biju idomaajis. Ipashs paldies Dacei Sauliitei.
AttiKa Dekor
Stock company "Latvijas Zaļais punkts" is the oldest and most experienced organization whose primary goal is to promote environmental responsibility among manufacturers. The company sorts and recycles used packaging, worn-out electrical devices and other discarded products that are harmful for the environment. As part of its strategy, "Latvijas Zaļais punkts" has established a program to promote the involvement of society and enterpreneurs. To this end it regularly places orders with Digital Mouse Ltd to print recycling posters, as well as stickers for dividend garbage containers, flyers and forms.
Jana Duhovska
AS "Latvijas Zaļais punkts" Marketing and Communication Manager
Paldies par izcilu servisu
Tavex
Strādājām kopā pie liela starptautiska auto pasākuma sagatavošanas. Sarežģītos apstākļos, kur drukātajiem materiāliem (baneriem, bukletiem, karogiem u.c.) ir kritiska nozīme, Digitālā Peles spēja rīkoties neticamā ātrumā, ar lielu precizitāti un piedāvāt labākos risinājumus situācijās, kurās pašam vēl nav skaidrs, kas ir vajadzīgs, atrisina daudzas problēmas. Lai arī darbojamies Rīgā un Pele strādā Ogrē, turpmāk vienmēr izvēlēsimies Digitālā Pele pakalpojumus, rīkojot lielus un mazus pasākumus un varu ieteikt citiem darīt to pašu. Personīga pateicība Edgaram Sparānam par elastību un Kristapam Kaimiņam par ātrumu.
LEAD. Korporatīvā komunikācija
Ātri, rūpīgi, ar individuālu attieksmi. Uzvarēja cenu aptaujā par bukletu iespiešanu. Paldies, paldies, paldies! :)
Salaspils novada kultūras nams "Rīgava"
Vēlos pateikt sirsnīgu un lielu PALDIES Jānim Dreiškinam par izcilo un profesionālo apkalpošanu!
Vents Aperāns