Booklets, Brochures Production
Booklets printing, prices:
Tri-fold A4 (210x297mm) format, full color double sided print:
| | |
| --- | --- |
| Amount pcs. | Price EUR |
| 100 | 68,00 |
| 200 | 75,68 |
| 500 | 110,00 |
| 1000 | 145,00 |
| 2000 | 192,00 |
| 5000 | 249,00 |
* Prices of booklets includes 170g silk/gloss paper. Printing on Munken Lynx or Scandia +5 to 15% from price.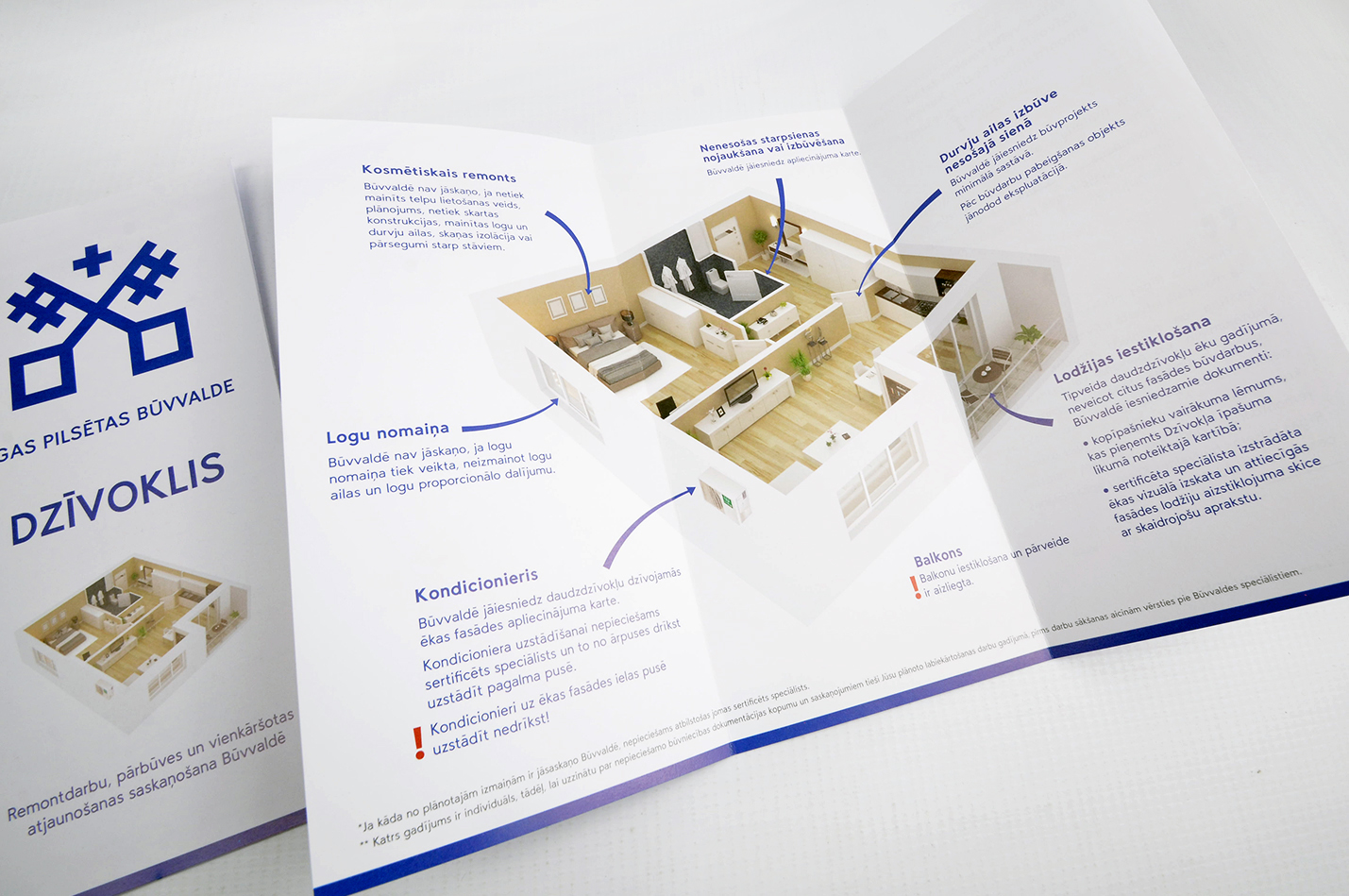 A4 and A5 booklets folded on half, 4+4 (full color double sided print):
Amount pcs.
Booklet A5

(A4 folded to A5); price EUR
Booklet A4

(A3 folded to A4); price EUR
100
63,00
80,00
200
72,00
95,00
500
95,00
160,00
1000
162,00
234,00
2000
206,00
311,00
* Prices of booklets include 200 - 250g silk/ gloss paper. Printing on Munken Lynx or Scandia +5 to 15% from price.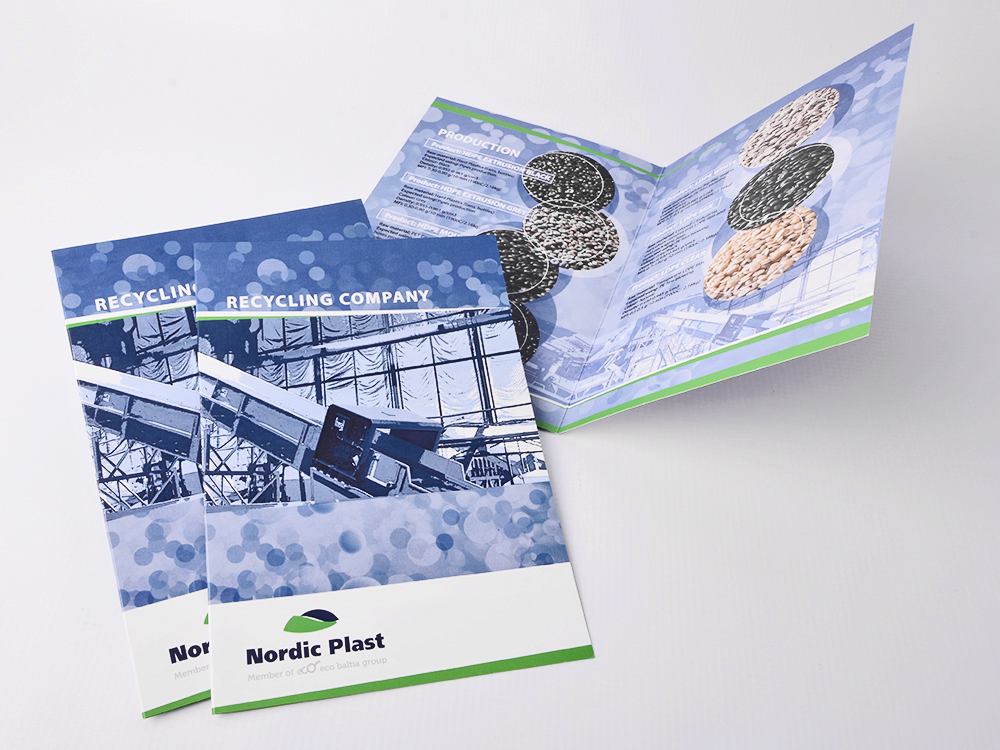 Brochures printing, prices:


A5 brochures, A4 folded sheets on half and saddle stitched, 4+4 (full color double sided print):
| | | | |
| --- | --- | --- | --- |
| Amount pcs. | 8pp; price EUR | 16pp; price EUR | 24pp; price EUR |
| 100 | 63,00 | 96,00 | 133,00 |
| 200 | 115,40 | 182,50 | 251,90 |
| 500 | 195,80 | 269,00 | 381,50 |
| 1000 | 253,40 | 388,00 | 531,00 |
| 2000 | 319,20 | 465,86 | 649,00 |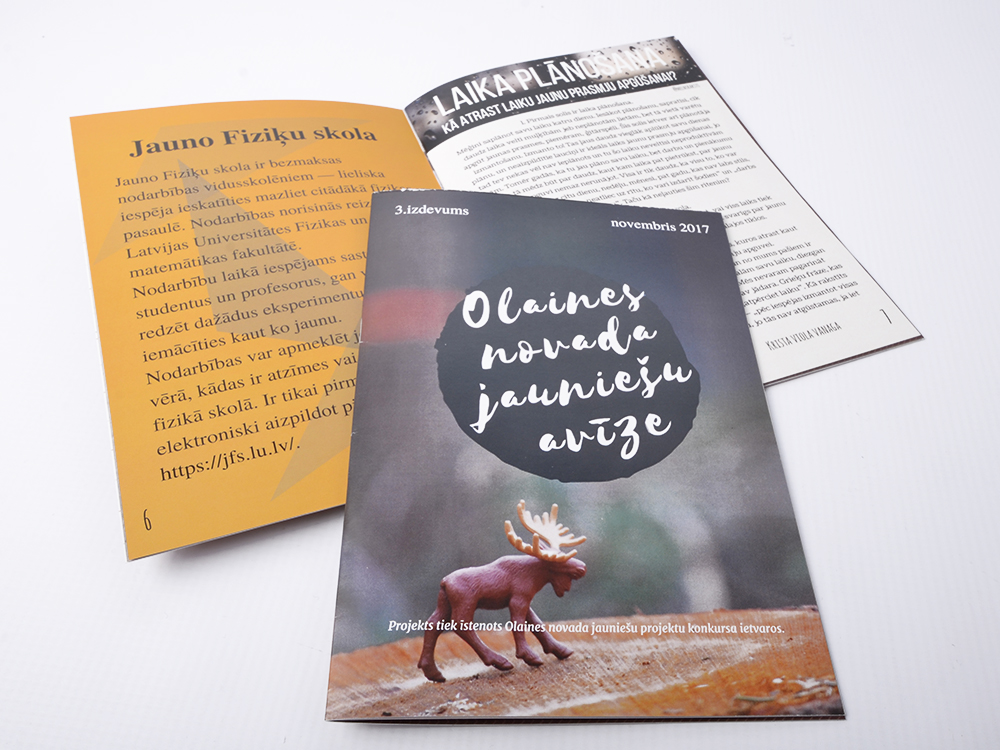 A4 brochures, A3 folded sheets on half and saddle stitched, 4+4 (full color double sided print):
| | | | |
| --- | --- | --- | --- |
| Amount pcs. | 8pp; price EUR | 16pp; price EUR | 24pp; price EUR |
| 100 | 98,00 | 158,00 | 202,00 |
| 200 | 130,50 | 215,80 | 298,20 |
| 500 | 305,20 | 421,25 | 650,45 |
| 1000 | 345,75 | 661,00 | 884,00 |
* Prices of brochures includes 170g silk/gloss paper. Printing on Munken Lynx or Scandia +5 to 15% from price.
* Brochures with more pages, back cover is special folded, which gives a good effect and look like glued.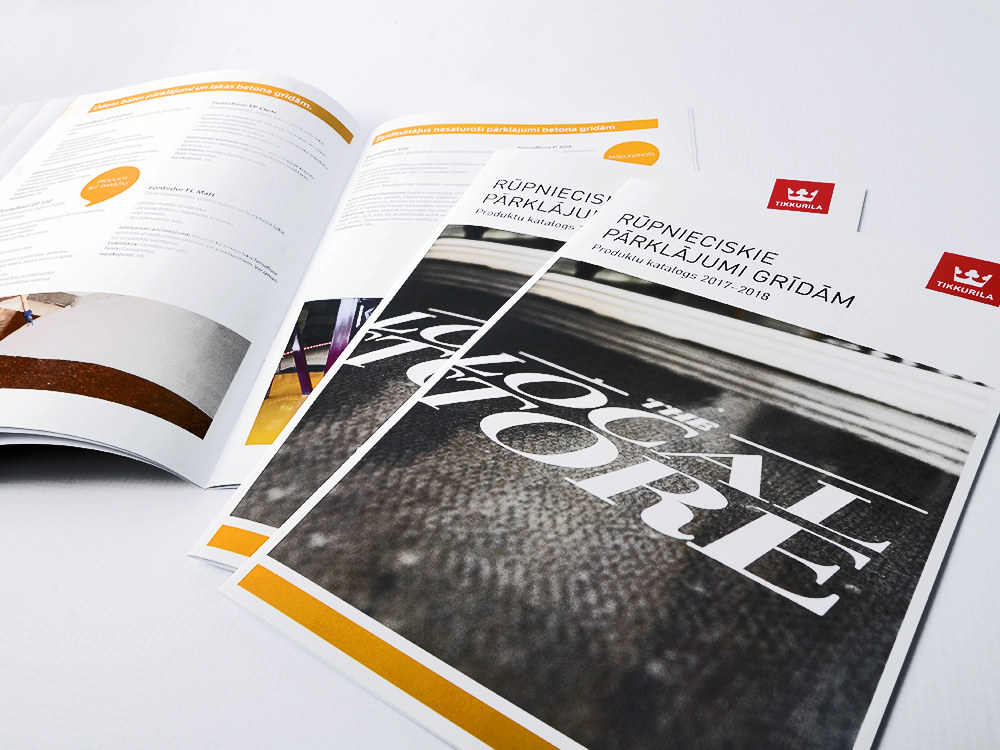 Our options for booklets, brochures, catalogs:
Full Color Offset Printing
Full Color Digital Printing
Locīšana, bigošana
Saddle Stitching with a special folded spine
Perfect Binding into hard covers (sewing)

PUR Binding into soft covers
Spirāļošana
Film Laminating, varnishing
UV varnishing
Printing with gold, silver, white or NEON colors.
More about binding: Book printing

Development of a booklet, brochure, catalog layout design:
Layout design and cover design development, concept 250EUR
Layout design per page 5-15 EUR
Layout design 30EUR/h
Our portfolio: Catalogs, booklets, brochures
*All printing prices are given in EUR without VAT.
Vēlos pateikt sirsnīgu un lielu PALDIES Jānim Dreiškinam par izcilo un profesionālo apkalpošanu!
Vents Aperāns
Tiešām MILZĪGS PALDIES! Sevišķi Renātei Ieviņai, kas veiksmīgi tika galā ar mūsu superīsos termiņos uzticēto lielo (no daudzām mazām lietām sastāvošo)darbu. Apbrīnoju gan Jūsu apņemšanos, gan ieguldījumu, apkalpojot Jums nezināmu klientu. Paldies arī meistariem, kas visu vajadzīgo steidzami saražoja ļoti labā kvalitātē.
Linda Liepiņa
DHL Express
Visa kolektīva vārdā vēlamies pateikt Jums paldies par atbalsta sniegšanu un mūsu ideju realizēšanu. Esam patiešām pateicīgi, ka tik operatīvi varējāt visu saražot! Par kalendāriem visi priecīgi, ir īpaši, ka bija iespēja Ziemassvētku vakarā tos uzdāvināt mūsu mīļajiem. Foto izstāde arī izdevās :) Vēlreiz paldies par Jūsu atsaucību un ceram, ka Jūs turpmāk arī citiem kolektīviem vai cilvēku grupām būsiet tik pat atvērti un sirsnīgi. Veiksmi darbos!
Jauniešu deju kolektīvs "Zālīte"
Darbinieki - atsaucīgi, radoši, pozitīvi. Sniedza palīdzigu roku pēdēja brīdī un visu paspēja laikus kā arī augstākajā kvalitātē. PALDIES!
TC Grupa
I´m swedish editor and also responsible for publisher of O-boken, a swedish annual yerabook about orienteering all over the world. We hade cooperate with Digitala Mouse ltd since printing of O-boken 2009 in Latvia and is very satisfied with almost everthing in our contacts. The printing of O-boken includes almost all types of graphic formats. And we think Digitala Mouse is one of the best map-printers in the world and that they can handle all types of printing. The printquality in the last O-boken 2014 is very close to perfect. Johnny Fransson, Ärla 13/1-2015
O-boken
SIA "Digitālā Pele" speciālisti ir atsaucīgi un vienmēr sniedz konsultācijas mūs interesējošos jautājumos. Uzņēmuma darbinieki ir pretim nākoši, ar vēlmi meklēt risinājumus nestandarta situācijās. Līdzšinējās sadarbības periodā SIA "Digitālā Pele" sevi ir pierādījusi kā drošu partneri, kas veic uzticētos darbus augstā kvalitātē un norunātajos termiņos.
Fazer Latvija
Paldies par izcilu servisu
Tavex
My cards have arrived, yay! I am so pleased with them all, can really recommend printing with Digital Mouse!
Lisa Zeicman
Mūsu uzņēmums saka Paldies! Paldies par rūpīgo, ātro un kvalitatīvo darbu, bet galveno kārt paldies par radošumu, izpalīdzību un sapratni! Patiess prieks, ka Jūs nekad nesakat : "Nē, mēs nevaram", bet gan - "Varam piedāvāt šādu variantu!".
SIA Liellopu izsoļu nams
Foršs uzņēmums ar atsaucīgu, ļoti izpalīdzīgu un galvenais kompetentu personālu. Ne vienu reizi vien Digitālā Pele ir "glābusi mūsu ādu" :D Paldies, par visu, ko esat mūsu labā darījuši. Paldies Jūsu vadītājiem, par spēju uzturēt motivāciju savos darbiniekos. Paldies, ka varam uz Jums paļauties ;)
Vladislavs Grebins
Joker Ltd
Vienmēr izmantojam Jūsu pakalpojumus, kad tas nepieciešams, - ātri, ērti un vienkārši. Ir izveidojusies laba komunikācija. Paldies!
DāvanuServiss.lv
Stock company "Latvijas Zaļais punkts" is the oldest and most experienced organization whose primary goal is to promote environmental responsibility among manufacturers. The company sorts and recycles used packaging, worn-out electrical devices and other discarded products that are harmful for the environment. As part of its strategy, "Latvijas Zaļais punkts" has established a program to promote the involvement of society and enterpreneurs. To this end it regularly places orders with Digital Mouse Ltd to print recycling posters, as well as stickers for dividend garbage containers, flyers and forms.
Jana Duhovska
AS "Latvijas Zaļais punkts" Marketing and Communication Manager
I have order some full print t-shirt and the printing quality is just stunning, incredibly sharp and high resolution!
Riccardo Capuzzo
Ātri, rūpīgi, ar individuālu attieksmi. Uzvarēja cenu aptaujā par bukletu iespiešanu. Paldies, paldies, paldies! :)
Salaspils novada kultūras nams "Rīgava"
Zemākā cena par labāko kvalitāti! Ātrs temps + strādā 24/7 :) Iesaku!
Šarlote Abiļēviča
Digital mouse LTD company provide excellent service for map printing during ESOC, WJSOC, WMSOC. Design of the maps and their quality were very good.And service was possible 24 hours at event place. It was great to work with representative of the company Edgars Sparans, who was very helpful and cooperative.
Tatiana Kalenderoglu
IOF Senior Event Adviser