PVC Banner Large Format Printing
PVC baneru druka un izgatavošana
Drukājam ar Roland solvent vai UV digitālās lielformāta drukas iekārtām augstas kvalitātes banerus gan iekštelpām, gan āra apstākļiem.
Nodrošinām košas krāsas, ilglaicīgu noturību un videi draudzīgu druku.
Piedāvājam arī baneru uzstādīšanu, rāmju izgatavošanu no metāla konstrukcijām un saskaņošanu ar dažādām institūcijām.
PVC Baneru drukas cenas:
Daudzums m²
Cena

EUR/

m2
1-4
10,00
5-10
9,00
11-30
8,00
31-100
7,00
101 <
6,00
* Cenā ir iekļauts 440 g/m2 laminēts PVC banera materiāls.
* Cenā ir iekļauta banera apstrāde ar gredzeniem pa perimetru.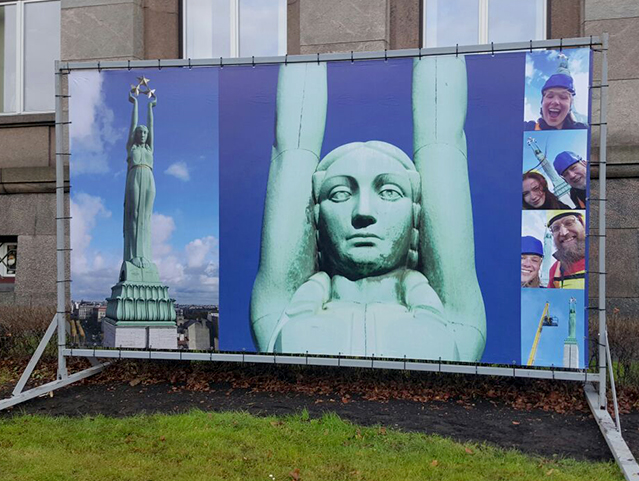 Baneru grafiskais dizains
Maketēšana un sagatavošana drukai - 30 EUR/h*
Grafiskā dizaina izstrāde - sākot no 150 EUR*.
* Maketēšanas cenas ir atkarīgas no iesniegtajiem materiāliem, prasībām un apjomiem.
* Jebkura dizaina izstrādei piedāvājam 2-3 konceptus, skices.
* Visiem dizaina darbiem termiņš ir 1 - 2 nedēļas.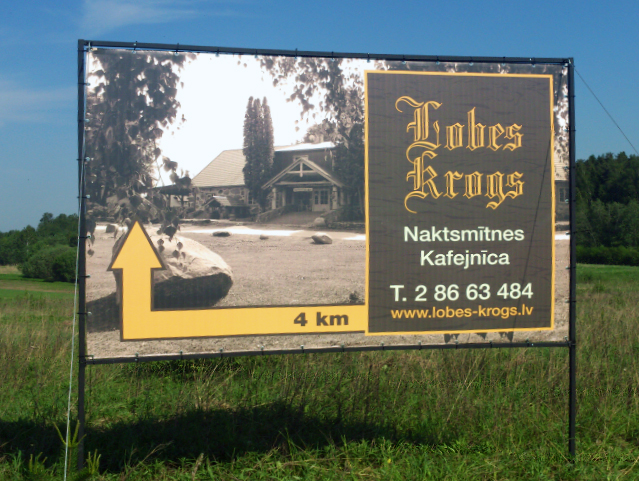 Pasūtījumiem virs 50 EUR piegāde - BEZ MAKSAS - Rīgā un Ogrē.
Minimālais pasūtījums 25 EUR.
Visas cenas ir norādītas EUR bez PVN.
Laba kvalitāte, ātrs serviss un laba cena! Paldies!
Baltic Events
Gribu teikt lielu paldies par foršo, draudzīgo attieksmi, individualitāti un darba kvalitāti!
Ecotex
I have order some full print t-shirt and the printing quality is just stunning, incredibly sharp and high resolution!
Riccardo Capuzzo
As one of Finland's top exporters of log houses it's very important for us to have high quality advertising materials. Digital mouse has proven to be a great partner. Good customer service, knowledge of different materials and excellent prints are a proof of their reliability. We have ordered many brochures and business cards and have been pleased every occasion.
Artichouse/Salla Ikonen
Art Director
My cards have arrived, yay! I am so pleased with them all, can really recommend printing with Digital Mouse!
Lisa Zeicman
Vēlos pateikt sirsnīgu un lielu PALDIES Jānim Dreiškinam par izcilo un profesionālo apkalpošanu!
Vents Aperāns
Radoša, atraktīva un uzticama komanda, kas vienmēr saviem klientiem nodrošinās lielisku kvalitāti par teicamu cenu, draudzīgu un pretimnākošu attieksmi.
"Komunikāciju aģentūra "Puzzle""
SIA "Digitālā Pele" speciālisti ir atsaucīgi un vienmēr sniedz konsultācijas mūs interesējošos jautājumos. Uzņēmuma darbinieki ir pretim nākoši, ar vēlmi meklēt risinājumus nestandarta situācijās. Līdzšinējās sadarbības periodā SIA "Digitālā Pele" sevi ir pierādījusi kā drošu partneri, kas veic uzticētos darbus augstā kvalitātē un norunātajos termiņos.
Fazer Latvija
Mūsu uzņēmums saka Paldies! Paldies par rūpīgo, ātro un kvalitatīvo darbu, bet galveno kārt paldies par radošumu, izpalīdzību un sapratni! Patiess prieks, ka Jūs nekad nesakat : "Nē, mēs nevaram", bet gan - "Varam piedāvāt šādu variantu!".
SIA Liellopu izsoļu nams
Kvalitatīvi, precīzi, vienmēr laikā un par lielisku cenu. Atsaucīga komanda - īpašs paldies Andrim Kalniņam!
Evita Miķelsone
INTAR-SIJA
Ļoti ātrs un kvalitatīvs darbs. Darba izpilde vienas dienas laikā. Atsaucīgi darbinieki. Prieks bija sadarboties. Liels Jums Paldies!!!!
G. Miežis Ārsts
Strādājām kopā pie liela starptautiska auto pasākuma sagatavošanas. Sarežģītos apstākļos, kur drukātajiem materiāliem (baneriem, bukletiem, karogiem u.c.) ir kritiska nozīme, Digitālā Peles spēja rīkoties neticamā ātrumā, ar lielu precizitāti un piedāvāt labākos risinājumus situācijās, kurās pašam vēl nav skaidrs, kas ir vajadzīgs, atrisina daudzas problēmas. Lai arī darbojamies Rīgā un Pele strādā Ogrē, turpmāk vienmēr izvēlēsimies Digitālā Pele pakalpojumus, rīkojot lielus un mazus pasākumus un varu ieteikt citiem darīt to pašu. Personīga pateicība Edgaram Sparānam par elastību un Kristapam Kaimiņam par ātrumu.
LEAD. Korporatīvā komunikācija
Lielisks uzņēmums, radošs ar profesionālu kolektīvu, laicīgām atbildēm! Patīk ka vienmēr tiek atrasts risinājums problēmām, nodrošinot pasūtījumus ar augstu kvalitāti!
SIA "Vides reklāmas risinājumi"
Digital mouse LTD company provide excellent service for map printing during ESOC, WJSOC, WMSOC. Design of the maps and their quality were very good.And service was possible 24 hours at event place. It was great to work with representative of the company Edgars Sparans, who was very helpful and cooperative.
Tatiana Kalenderoglu
IOF Senior Event Adviser
Pateicamies par sadarbību! Esam ļoti priecīgi par gala rezultātu. Paldies Jūsu kolēģim Edgaram Sparānam un grafiskajai dizainerei, maketētājai Santai Timinskai par pacietību un sapratni!
Iluta Mežule Balvu novada pašvaldības Sabiedrisko attiecību speciāliste
Stock company "Latvijas Zaļais punkts" is the oldest and most experienced organization whose primary goal is to promote environmental responsibility among manufacturers. The company sorts and recycles used packaging, worn-out electrical devices and other discarded products that are harmful for the environment. As part of its strategy, "Latvijas Zaļais punkts" has established a program to promote the involvement of society and enterpreneurs. To this end it regularly places orders with Digital Mouse Ltd to print recycling posters, as well as stickers for dividend garbage containers, flyers and forms.
Jana Duhovska
AS "Latvijas Zaļais punkts" Marketing and Communication Manager