PVC Banner Large Format Printing
We offer high quality PVC / vinyl banners for both indoor and outdoor advertising printed on the large format digital Roland ECO solvent printer.
We can guarantee bright colours, long-term durability and eco-friendly printing.
We also offer the installation of banners, the production of frames from metal constructions and the coordination with various institutions.
PVC banners printing prices:
Quantity m²
Price

/

m2
1-4
10,00
5-10
9,00
11-30
8,00
31-100
7,00
101 <
6,00
* The price includes 440 g/m2 of laminated PVC banner material.
* The price includes the banner processing with rings along its perimeter.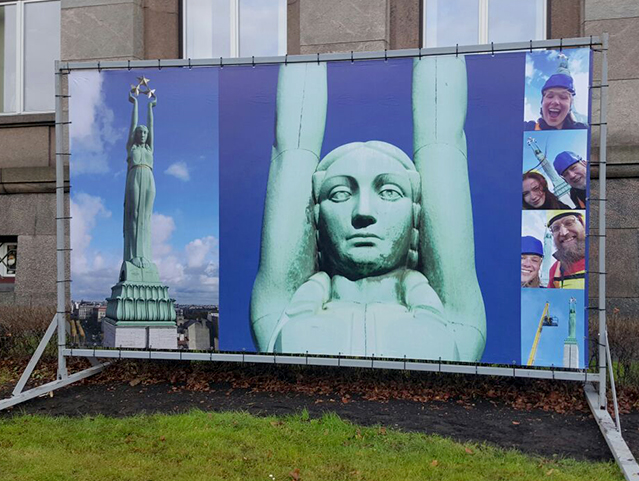 Graphic design development.
Layout design and preparation of files for the printing - 30 EUR/h*
Graphic design development - starting from 150 EUR*.
* Layout prices depend on the submitted materials, requirements and volumes.
* We offer 2-3 concepts, sketches for any design development.
* For all design works, the deadline is 1 - 2 weeks.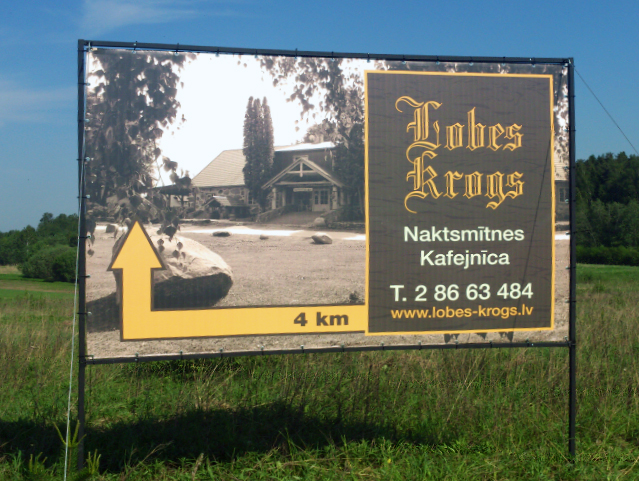 * All prices are given in EURO without VAT.
Digital mouse LTD company provide excellent service for map printing during ESOC, WJSOC, WMSOC. Design of the maps and their quality were very good.And service was possible 24 hours at event place. It was great to work with representative of the company Edgars Sparans, who was very helpful and cooperative.
Tatiana Kalenderoglu
IOF Senior Event Adviser
Ļoti ātrs un kvalitatīvs darbs. Darba izpilde vienas dienas laikā. Atsaucīgi darbinieki. Prieks bija sadarboties. Liels Jums Paldies!!!!
G. Miežis Ārsts
Ātri, rūpīgi, ar individuālu attieksmi. Uzvarēja cenu aptaujā par bukletu iespiešanu. Paldies, paldies, paldies! :)
Salaspils novada kultūras nams "Rīgava"
Visa kolektīva vārdā vēlamies pateikt Jums paldies par atbalsta sniegšanu un mūsu ideju realizēšanu. Esam patiešām pateicīgi, ka tik operatīvi varējāt visu saražot! Par kalendāriem visi priecīgi, ir īpaši, ka bija iespēja Ziemassvētku vakarā tos uzdāvināt mūsu mīļajiem. Foto izstāde arī izdevās :) Vēlreiz paldies par Jūsu atsaucību un ceram, ka Jūs turpmāk arī citiem kolektīviem vai cilvēku grupām būsiet tik pat atvērti un sirsnīgi. Veiksmi darbos!
Jauniešu deju kolektīvs "Zālīte"
Digital Mouse Ltd is very easy to work with and they also give fast answer in emails and on skype when I need support or price for a new project. Printing is done with best quality and delivery time have never been a problem, even if the company is placed on the other side of Östersjön. I´m very happy to co-operate with Digitalmouse and will for sure print more works at their company in the future.
Andreas Davidsson
Adshape AB, Sweden, O-Ringen / Svenska Orienteringsförbundet
Vienmēr izmantojam Jūsu pakalpojumus, kad tas nepieciešams, - ātri, ērti un vienkārši. Ir izveidojusies laba komunikācija. Paldies!
DāvanuServiss.lv
Mūsu uzņēmums saka Paldies! Paldies par rūpīgo, ātro un kvalitatīvo darbu, bet galveno kārt paldies par radošumu, izpalīdzību un sapratni! Patiess prieks, ka Jūs nekad nesakat : "Nē, mēs nevaram", bet gan - "Varam piedāvāt šādu variantu!".
SIA Liellopu izsoļu nams
My cards have arrived, yay! I am so pleased with them all, can really recommend printing with Digital Mouse!
Lisa Zeicman
SIA "Digitālā Pele" speciālisti ir atsaucīgi un vienmēr sniedz konsultācijas mūs interesējošos jautājumos. Uzņēmuma darbinieki ir pretim nākoši, ar vēlmi meklēt risinājumus nestandarta situācijās. Līdzšinējās sadarbības periodā SIA "Digitālā Pele" sevi ir pierādījusi kā drošu partneri, kas veic uzticētos darbus augstā kvalitātē un norunātajos termiņos.
Fazer Latvija
Gribu teikt lielu paldies par foršo, draudzīgo attieksmi, individualitāti un darba kvalitāti!
Ecotex
Kvalitatīvi, precīzi, vienmēr laikā un par lielisku cenu. Atsaucīga komanda - īpašs paldies Andrim Kalniņam!
Evita Miķelsone
INTAR-SIJA
Tiešām MILZĪGS PALDIES! Sevišķi Renātei Ieviņai, kas veiksmīgi tika galā ar mūsu superīsos termiņos uzticēto lielo (no daudzām mazām lietām sastāvošo)darbu. Apbrīnoju gan Jūsu apņemšanos, gan ieguldījumu, apkalpojot Jums nezināmu klientu. Paldies arī meistariem, kas visu vajadzīgo steidzami saražoja ļoti labā kvalitātē.
Linda Liepiņa
DHL Express
Laba kvalitāte, ātrs serviss un laba cena! Paldies!
Baltic Events
I have order some full print t-shirt and the printing quality is just stunning, incredibly sharp and high resolution!
Riccardo Capuzzo
Strādājām kopā pie liela starptautiska auto pasākuma sagatavošanas. Sarežģītos apstākļos, kur drukātajiem materiāliem (baneriem, bukletiem, karogiem u.c.) ir kritiska nozīme, Digitālā Peles spēja rīkoties neticamā ātrumā, ar lielu precizitāti un piedāvāt labākos risinājumus situācijās, kurās pašam vēl nav skaidrs, kas ir vajadzīgs, atrisina daudzas problēmas. Lai arī darbojamies Rīgā un Pele strādā Ogrē, turpmāk vienmēr izvēlēsimies Digitālā Pele pakalpojumus, rīkojot lielus un mazus pasākumus un varu ieteikt citiem darīt to pašu. Personīga pateicība Edgaram Sparānam par elastību un Kristapam Kaimiņam par ātrumu.
LEAD. Korporatīvā komunikācija
Pateicamies par sadarbību! Esam ļoti priecīgi par gala rezultātu. Paldies Jūsu kolēģim Edgaram Sparānam un grafiskajai dizainerei, maketētājai Santai Timinskai par pacietību un sapratni!
Iluta Mežule Balvu novada pašvaldības Sabiedrisko attiecību speciāliste