Control Paper Wristbands, Imprinting
Tyvex fabric paper wristbands with full color print.
Durable matterial, easy closed, watter resistant, full color print on. Size: 19x250mm.
Prices for full color print (4+0) paper wristbands with numeration:
| | |
| --- | --- |
| Quantity | Price €/pcs. |
| 100 - 500 | 0.10 |
| 501 - 2000 | 0.09 |
| 2001 - 10000 | 0.08 |
| 10000 un vairāk | 0.07 |
* Minimal order 25EURO.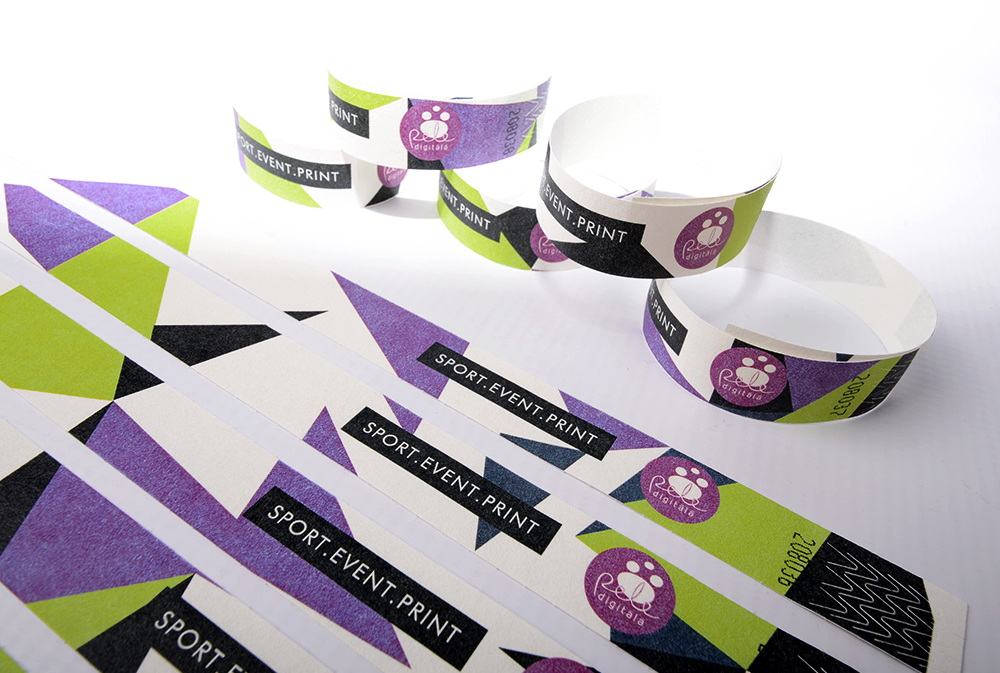 Tyvex wristbands in variety colors without imprint.
Made of strong, waterproof, lightweight material, comfortably adjust to any size and are easily applied to the wrist with an adhesive strip. Wristband size 19x250mm.
Prices for one color paper wristbands with numeration:
| | |
| --- | --- |
| Quantity | Price €/pcs. |
| 100 - 500 | 0.06 |
| 501 - 2000 | 0.05 |
| 2001 - 10000 | 0.04 |
| 10000 un vairāk | 0.03 |
* Minimal order 25EURO.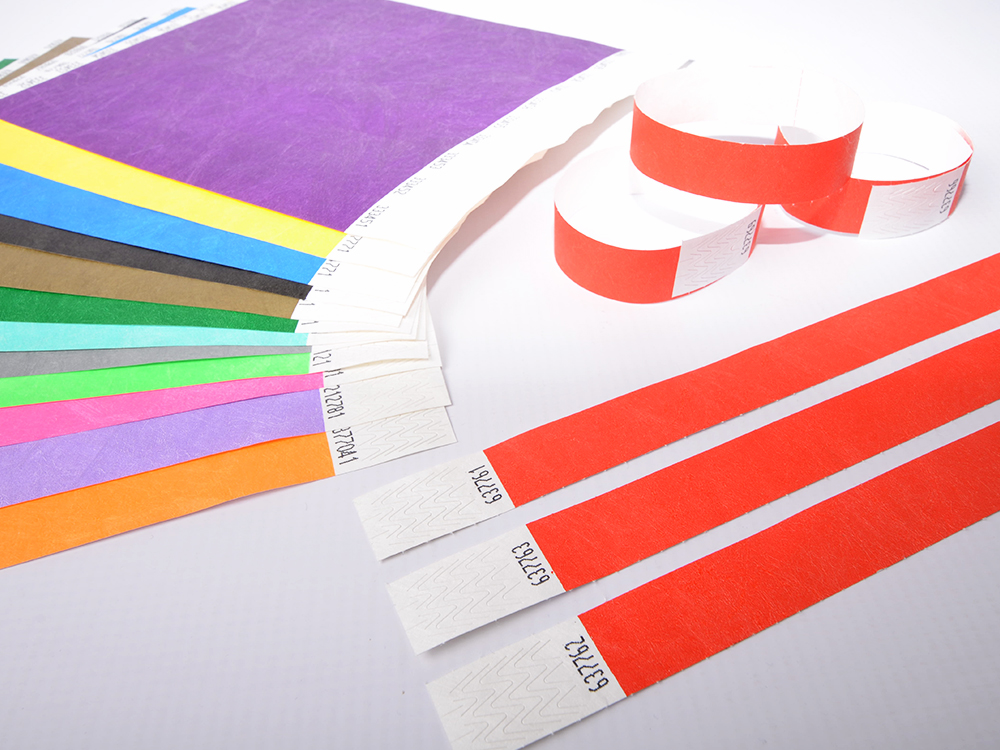 Textile wristbands with imprint.
Polyester bracelet with security lock. The one-way security lock prevents the item from being taken off which makes it the perfect security pass for parties end events. Size: 17x1,5cm.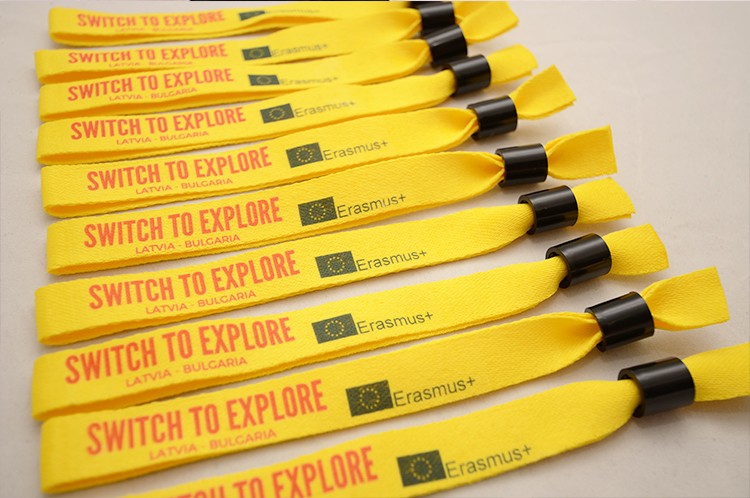 Prices of wristbands are given in EUR without VAT.
Gribu teikt lielu paldies par foršo, draudzīgo attieksmi, individualitāti un darba kvalitāti!
Ecotex
Kvalitatīvi, precīzi, vienmēr laikā un par lielisku cenu. Atsaucīga komanda - īpašs paldies Andrim Kalniņam!
Evita Miķelsone
INTAR-SIJA
Foršs uzņēmums ar atsaucīgu, ļoti izpalīdzīgu un galvenais kompetentu personālu. Ne vienu reizi vien Digitālā Pele ir "glābusi mūsu ādu" :D Paldies, par visu, ko esat mūsu labā darījuši. Paldies Jūsu vadītājiem, par spēju uzturēt motivāciju savos darbiniekos. Paldies, ka varam uz Jums paļauties ;)
Vladislavs Grebins
Joker Ltd
Zemākā cena par labāko kvalitāti! Ātrs temps + strādā 24/7 :) Iesaku!
Šarlote Abiļēviča
Radoša, atraktīva un uzticama komanda, kas vienmēr saviem klientiem nodrošinās lielisku kvalitāti par teicamu cenu, draudzīgu un pretimnākošu attieksmi.
"Komunikāciju aģentūra "Puzzle""
Digital Mouse Ltd has repeatedly proven through constant cooperation with us that it can find the most suitable service, convenient in terms of execution, which takes the overall best approach – even in non-standard situations. Digital Mouse LTd delivers high quality at a reasonable price and is a strong competitor in its field.
Laima Jekšiņa, Zaļā Josta Ltd, Marketing director
My cards have arrived, yay! I am so pleased with them all, can really recommend printing with Digital Mouse!
Lisa Zeicman
As one of Finland's top exporters of log houses it's very important for us to have high quality advertising materials. Digital mouse has proven to be a great partner. Good customer service, knowledge of different materials and excellent prints are a proof of their reliability. We have ordered many brochures and business cards and have been pleased every occasion.
Artichouse/Salla Ikonen
Art Director
I have order some full print t-shirt and the printing quality is just stunning, incredibly sharp and high resolution!
Riccardo Capuzzo
SIA "Digitālā Pele" speciālisti ir atsaucīgi un vienmēr sniedz konsultācijas mūs interesējošos jautājumos. Uzņēmuma darbinieki ir pretim nākoši, ar vēlmi meklēt risinājumus nestandarta situācijās. Līdzšinējās sadarbības periodā SIA "Digitālā Pele" sevi ir pierādījusi kā drošu partneri, kas veic uzticētos darbus augstā kvalitātē un norunātajos termiņos.
Fazer Latvija
Digital Mouse Ltd is very easy to work with and they also give fast answer in emails and on skype when I need support or price for a new project. Printing is done with best quality and delivery time have never been a problem, even if the company is placed on the other side of Östersjön. I´m very happy to co-operate with Digitalmouse and will for sure print more works at their company in the future.
Andreas Davidsson
Adshape AB, Sweden, O-Ringen / Svenska Orienteringsförbundet
Darbinieki - atsaucīgi, radoši, pozitīvi. Sniedza palīdzigu roku pēdēja brīdī un visu paspēja laikus kā arī augstākajā kvalitātē. PALDIES!
TC Grupa
Ļoti ātrs un kvalitatīvs darbs. Darba izpilde vienas dienas laikā. Atsaucīgi darbinieki. Prieks bija sadarboties. Liels Jums Paldies!!!!
G. Miežis Ārsts
Lielisks uzņēmums, radošs ar profesionālu kolektīvu, laicīgām atbildēm! Patīk ka vienmēr tiek atrasts risinājums problēmām, nodrošinot pasūtījumus ar augstu kvalitāti!
SIA "Vides reklāmas risinājumi"
Ātri, rūpīgi, ar individuālu attieksmi. Uzvarēja cenu aptaujā par bukletu iespiešanu. Paldies, paldies, paldies! :)
Salaspils novada kultūras nams "Rīgava"
Digital mouse LTD company provide excellent service for map printing during ESOC, WJSOC, WMSOC. Design of the maps and their quality were very good.And service was possible 24 hours at event place. It was great to work with representative of the company Edgars Sparans, who was very helpful and cooperative.
Tatiana Kalenderoglu
IOF Senior Event Adviser